What to Do, See, and Eat in Santorini - Solo Travel
My second visit to Greece, first visit to Santorini and what an experience.
While I believe it's possible to travel anywhere alone, in my experience, some places are more enjoyable as a solo traveler than others. Santorini, though quite romantic, is an excellent place to explore alone. The people are friendly, it's difficult to get lost (being that it's so small), and there's a great mix of activities. That being said, this guide doesn't only apply to single travelers.
This was quite an impromptu mini-vacation, but if I had to do the trip again, I wouldn't change any of it: from hotel selection to itinerary. I will share with you my trip in hopes that it will help you, should you ever choose to visit.
Where To Stay
Hotels are incredibly affordable and it can be difficult to choose when there are so many choices. I decided to stay on the south-side of the island on Perissa Beach. Pictures might tempt you to stay on the cliffs of Fira or Oia, but after spending time in both, I can tell you I'm quite happy staying away from the giant-cruise crowds.
If you decide you don't want to explore for the day, you're right there on the beautiful black sand beach with dozens of sea-facing restaurants and bars.
If you do decide to explore, you're only a short drive from all the sights. Win/Win
I stayed at the Smaragdi Hotel. What it lacks in views it more than makes up for in service, location, and setting.
Getting Around
Rent a car! There are buses and taxis, but having the freedom to move around when and where you want is so great. As a photographer, being able to pull over when I see something interesting or just navigate freely without a map to discover things (I wouldn't normally discover) is so rewarding. You can also choose to rent a scooter or quad, but frankly, the small luxury of AC during the day was appreciated. Not to mention, we had a few rain showers during my stay, so I stayed dry!
NOTE: I did hear from several locals that during high-season (mid-June through August), it can take HOURS to drive from the south of the island to the north. It would only take me 20-30 minutes.
What To Do
My favorites in no particular order...
You can save by taking a 35 Euro "pirate-ship" cruise, but you're going to be on a big boat with 149 other people. OR....
You can splurge by spending 100 Euros more for a catamaran cruise with 10-15 people, including free drinks and a beautifully prepared seafood dinner. I opted this route and no regrets. A relaxing cruise to the volcano, hot spring, and red beach.
I sailed with Spiridakos Sailing Cruise. Ask for the "Happy Day" ship with the best crew Pablo, Corina, and (...super easy-on-the-eyes...) Captain Pantelis.
The capitol of Santorini is beautiful. There's a ton of passages full of shops, jewelry stores, and restaurants to visit. Pass up the tourist shops full of Made-in-China goods, but keep a look out for the cool concept stores and artist galleries.
I found these amazing little handbags made locally. There were only 8 of them and I bought 3 but wished I had picked them ALL up!
Now judge me if you need to, but I did ride a mule down the hill. It was fun, the mule didn't struggle, but I wished I had snuck an apple from breakfast to give to him. I can confidently tell you that these guys looked healthy and well-fed (I've been to countries where their animals look sick and emaciated so I have seen the difference).
I opted for the cable car to go back up.
Oia is known for it's windmill views and sunsets. Get there early if you want to explore without the throngs of cruise ship crowds, because when they do, it's a real buzz kill. It's fun to just wander around the narrow passages, window shop, take in the views, and do an hours worth of the stair-master outdoors...
During my visit, I did do a little shopping and my favorite boutique was Ammos on the southside of the city. The girls at the store were so friendly and as chic as the inventory in their shop. Another upside is their store is full of Greek designers.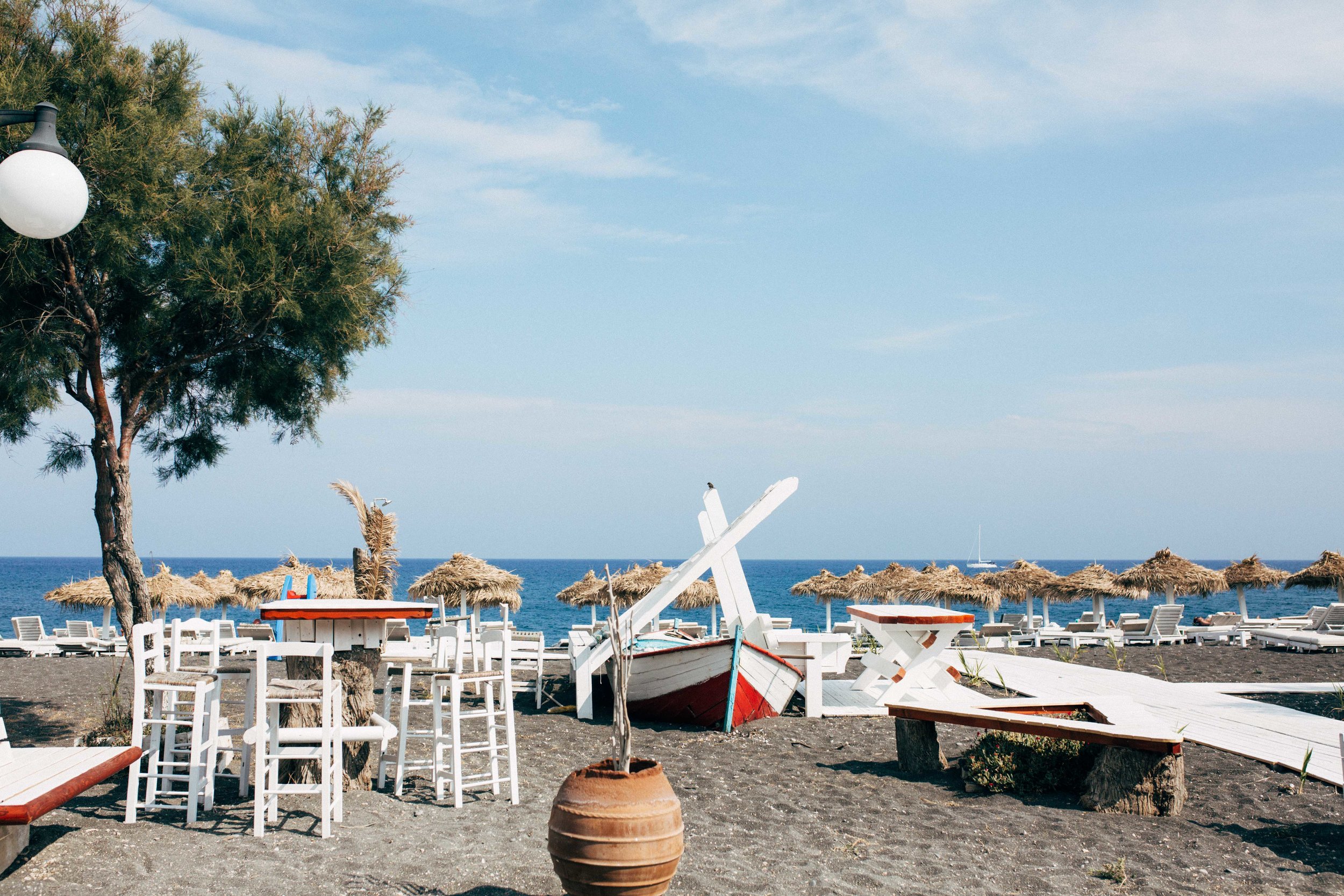 If I had stayed in Santorini for any longer, I would have just lived on this beach. There are lounging beds and umbrellas on the entire 7 km length of the beach (nearly). The water is crystal clear though because the sand is so dark, it doesn't look as turquoise as some other areas.
There's no lack of restaurants and the prices are super reasonable in comparison to some in Fira or Oia.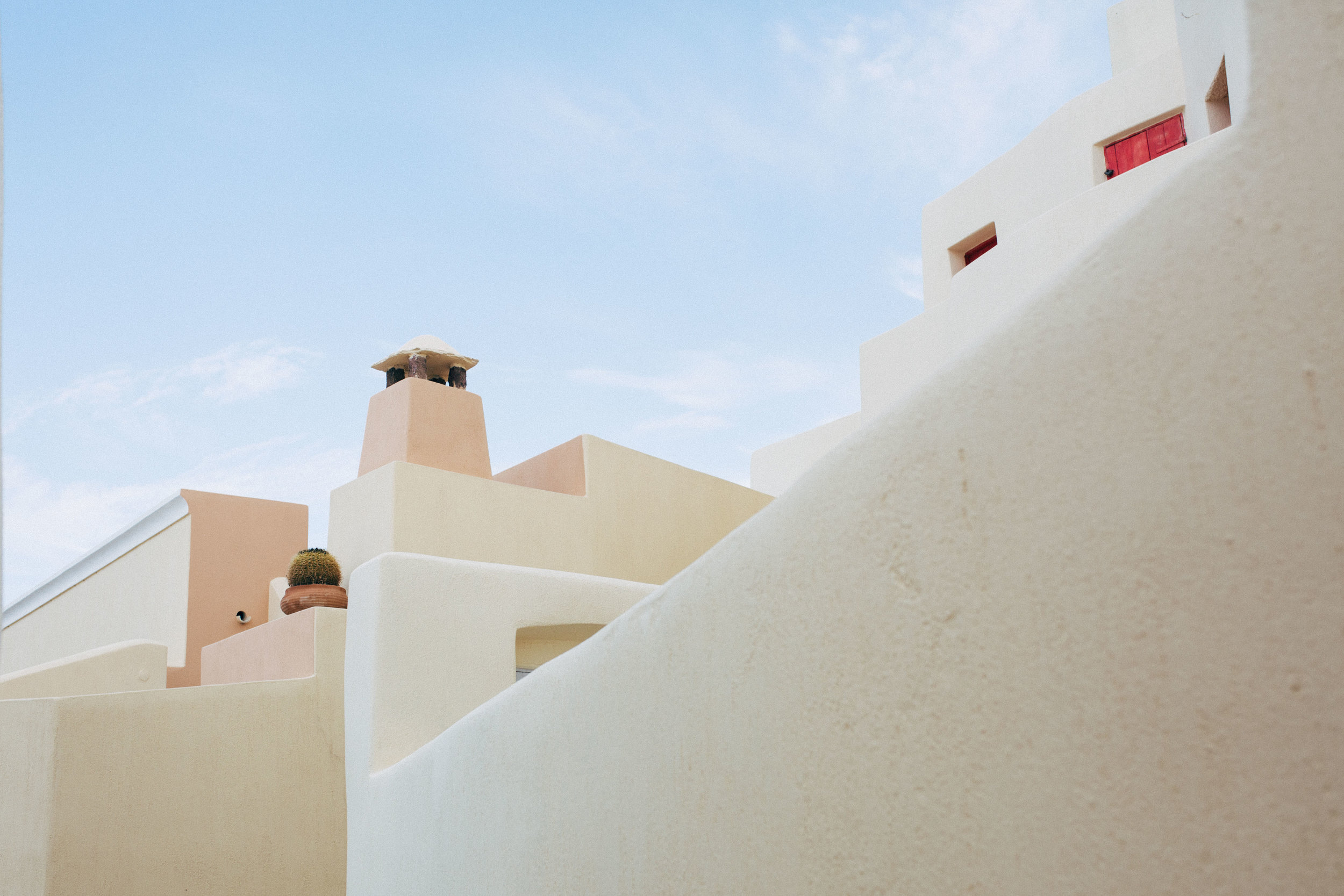 My favorite part of my trip was visiting the small villages dotting the map of Santorini.
Emporio was my favorite because of the photographs I captured. I felt like the only person in the village on Sunday morning. That is, until I found The Old Barbershop Cafe at the top of the hill. Then, it was just me, a cat, and the cafe owner.
I also visited Pyrgos and Akrotiri (a little more touristy) - both adorable as well.
It's a must. You can grab a spot in Oia or pull over on the side of the road down the Caldera or...splurge on an amazing dinner and watch it at a table with a delicious meal.
Where To Eat
In Oia: Passagio. Their "Wellness Breakfast" was just about the best thing I've had for breakfast/brunch this year.
In Imerovigli (near Fira): OVAC. A luxury restaurant for those OK with dishing out a little extra for a truly special dining experience. AH-mazing sushi and AHHH-mazing views.
In Perissa Beach: Wet Stories. Lunch-only in a super cool, bohemian-chic atmosphere.
However, in addition to this, make sure to try one of the many Greek restaurants that serve truly local specialities. Stuffed vine leaves, tomato fritters, calamari, octopus, tzaziki, and let me not forget...Santorini wine!
What to Pack
1-2 pairs of shorts
2-3 tanks/shirts
1 light sweater or jacket (Evenings in May were chilly, which did my light sunburn some good)
1 pair of casual sneakers (Brownie points if they're not runners)
1-2 swimsuits (I brought one pieces that doubled as tops)
2-3 light dresses
Note 1: Sandals seems like an obvious one to add, but don't pack them, buy them! You're in Greece and there are tons of leather sandal makers in Santorini. You'll be tempted.
Note 2: Don't bother with heels. Wedges maybe if you really want to dress up for dinner, but with the cobblestone streets and inclines, you can forget heels.
Seeing that this is my first official "travel guide". I'd love to hear your thoughts or questions. I'll be continuing these throughout the year. I have trips to Amsterdam and Prague on the agenda!
xx,
Charlotte Margot